Our cats love PREMIER - Highest premium quality Brazil food !
&
Welcome to Kocka Bella - the small cageless cattery, registered in the FiFe - Clube Brasileiro do Gato, located in São Paulo-Brazil and CFA -The Cat Fanciers Association . We breed exclusively persian shaded silver, golden and chinchilla . The grace, refinement, intelligence and fascination with lovely expression with beautiful emerald green eyes, outlined black - all these epithets are oriented to these splendid Cats ! Our animals are tested for PIF / FIV / FELV negative . All our cats are DNA-PKD negative too !
The lines we currently use are best European and Canadian bloodlines including Eucker , Elchakcharan, Sunnybeach and Cedar Swamp. In pedigrees of our cats you can to find such special and unique cats like are CFA&FiFe CH Elchakcharan´s Jacky Chan of Eucker, CFA GC NW Cedar Swamp´s Kimba or GC Aritzia Diamonds Are Forever of Sunnybeach.
We breed our beloved cats with strong health, incredibly gentle character, exterior which corresponds to the breed's standard and with sweet open expression of very beautiful face. Our house is large, spacious and cageless where cats live in company of our family with love, affection and attention. Our house is ruled by only 7 breeding cats, 5 females and 2 male as I want to keep my cattery small.
We have only few quantity of kittens per year, and we are very selective in the choice of new homes for our beautiful babies, sweet and affectionate. We don't keep a waitinglist. We believe in selecting a special home for a special kitten. If You are looking for a kitten from KOCKA BELLA, then we suggest You go to the AVAILABLE-page. If You see something You think might be what You are looking for, then don't hesitate to drop us an e-mail.
Special thanks to Jitka Seichertova & Helena Hrajickova (Eucker Cattery) for knowledge, love and trust. Thank you for believing in me and showing me the way.
International Airport Prague - Czech Republic - 11th of April 2009
LEFT PICTURE - left to right
Mrs.Jitka Seichertova ( Eucker cattery ), Mrs.Patricia Akemi Kezuka with shaded silver male CH Eucker´s 24 Carat Brilliant and Mrs.Helena Krajickova ( Eucker cattery )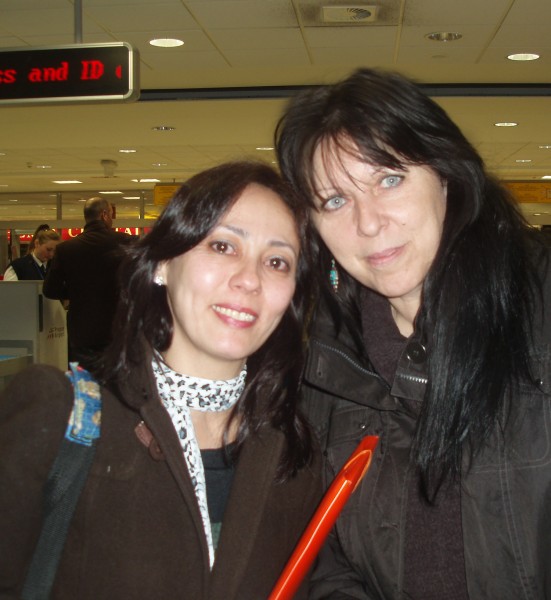 Me and Jitka on the Prague´s airport again....sad moments before my departure at home....Oh.....